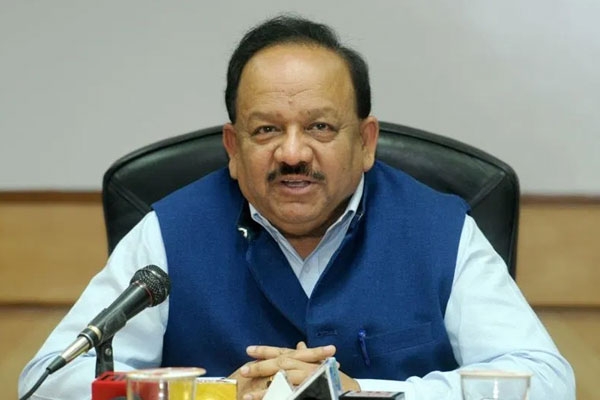 (Image source from: thewirehindi.com)
The first dose of the vaccine will be taken by the health minister Harsha Vardhan himself to assure the people with safety.
In what comes as the most awaited news, Union Health Minister Harsh Vardhan has guaranteed that the vaccine for COVID-19 will be available as early as the start of the next year. Moreover, he asserted that the first dose of the vaccine will be taken by him to assure safety regarding the vaccine.
However, he mentioned that there is no specific date as of now regarding the launch of the vaccine.
The above information was given by the health minister through his digital interaction with the people on the Sunday Samvad platform.
Harsh Vardhan stated that all the necessary safety precautions in conducting the human trials are being taken accurately and the National Expert Group for Vaccination is also monitoring the situation.
He stated that issues like vaccine security, cost, equity, production, and the timelines are being discussed intensely.
He further assured that the vaccine will made available first for the needy irrespective of their paying capabilities.
After the discussions on the vaccine reach a consensus, the government is considering emergency authorization of the vaccine for senior citizens, health care workers, and the high-risk group.
To erase all the fears related to the vaccine and its side effects, Harsh Vardhan assured that he would first take the vaccine before releasing it to the people.
While elaborating on the vaccines and their developments in India, he said that the department of biotechnology and the Indian Council of Medical Research (ICMR) have been proactive in supporting the advancements of the vaccine candidates.
The minister also mentioned that a safe and secure vaccine can be proven effective in establishing immunity in the country at a much faster pace when compared to the natural infection.
It is hoped that an agreement would be reached in the next few months over the desired protective herd immunity in every state.
India has been reporting around 90,000 cases for 10 days and on Sunday, the country reported 94,372 new cases. The total tally of the coronavirus cases across India has reached 47 lakh mark according to the Union Ministry of Health and Family Welfare.
With the latest spike of cases in the last 24 hours, the total tally of positive coronavirus cases has reached 47,54,357 and of them, 9,73,175 are active cases while around 37,00,000 people have been discharged till date.
In the last twenty-four hours, 1114 new deaths have been reported in the country taking the total death count to 78,586. The mortality rate has risen by 14.2 percent when compared to the previous week in India.
By Gayatri Yellayi