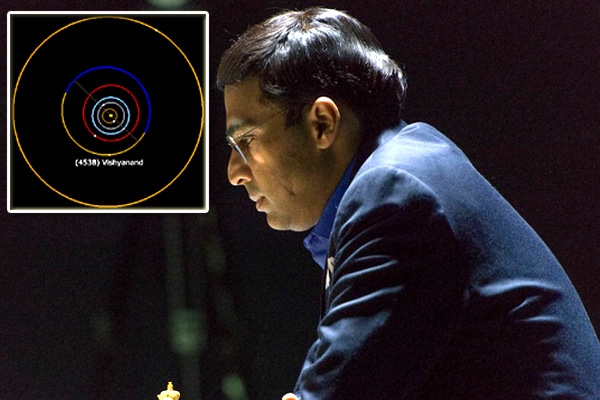 (Image source from: Planet Vishyanand)
A great news for Indians and lovers of mind game Chess that a minor planet was named after former World Chess Champion and astronomy enthusiast Viswanathan Anand. With this the sports icon, has joined the club of planet titular, along with Roger Federer, Jesse Owens, Arsene Wenger, Donald Bradman.
The stars of various sports, Roger Federer, Jesse Owens, Arsene Wenger, and Donald Bradman were also honoured by considering their names for unnamed minor planets so far. The World Chess star Vishy joined this unique club when a minor planet (4538), located roughly between the orbits of Mars and Jupiter, was named after him.
Though the minor planet (4538) was discovered on October 10, 1988 by Kenzo Suzuki of Toyota, Japan remained unnamed till now. Michael Rudenko, a staff member of Minor Planet Center, has been invited to name the object and he has considered the legend in chess game as he is also a gentlemen and astronomy enthusiast.
The news is really worthy for all of us to celebrate. Congratulations to Viswanathan Anand and to Planet Vishyanand!!
-Kannamsai