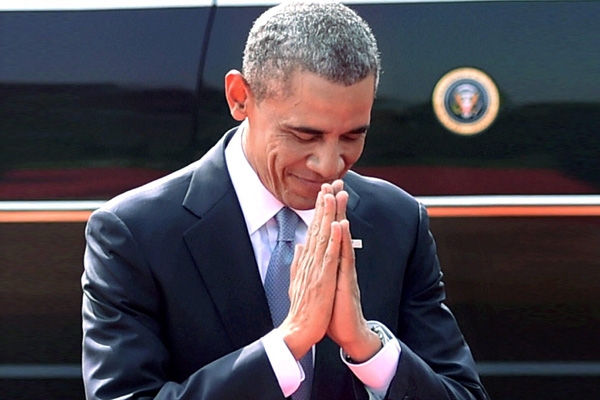 (Image source from: US' stance on India's Bid to UNSC Membership)
The United States president Barack Obama has not changed his stance on India's bid to join the United Nations Security Council (UNSC) as a permanent member. According to the White House press secretary Josh Earnest, President Obama has reiterated their support for India's membership in the reformed UNSC – in view of their commitment of strengthening relationship between two nations.
"What the President said was that he said in the context of a reformed Security Council that the President would support the inclusion of India in that process," Josh Earnest told reporters Tuesday.
Obama had assured India to support its membership in UNSC during his first visit to India in November 2010. "The President, as we've talked about on a number of occasions, genuinely enjoyed the visit that he had to India back in January," Mr Earnest said while coming across Mr. Obama's historic visit to the largest democracy as the guest of honour at India's Republic Day this year.
India and US have been strengthening their ties in various issues like economy, defense, nuclear energy, infrastructure development, and market promotion since the beginning of the 21st century.
So far only 5 nations (China, France, Russian Federation, the United Kingdom, and the United States) have been enjoying the veto power (permanent membership in UNSC). The countries India, Germany, Brazil, and Japan have been striving to join the UNSC as permanent members.
In reply to a question on the future of the illegal immigrants after a US court stayed the operation of Mr. Obama's executive action to temporarily protect from deportation about five million illegal immigrants, including thousands of Indians, Earnest said "We continue to be working through the legal system to appeal the ruling of the district court judge that prevented the implementation of some aspects of the President's immigration executive actions."
"And that's a legal process that's ongoing. We continue to have very strong confidence in the legal strength of those arguments." He added.
The ten non-permanent members elected for two-year terms by the General Assembly (with end of term date) are Angola (2016), Chad (2015), Chile (2015), Jordan (2015), Lithuania (2015), Malaysia (2016), New Zealand (2016), Nigeria (2015), Spain (2016), and Venezuela (Bolivarian Republic of) (2016).
Image Credits: Millenniumpost

-Kannamsai