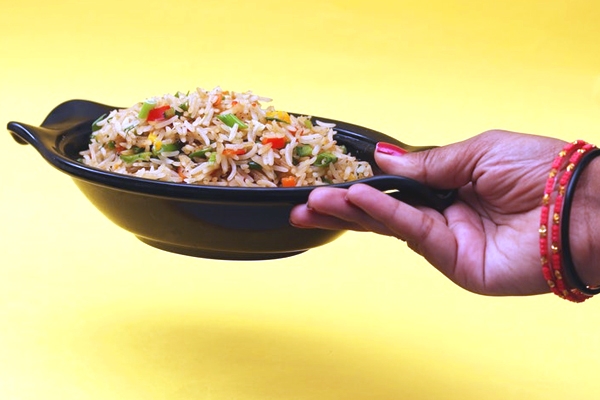 Made with the nutty flavor of brown rice with the crisp taste of bell peppers, baby peas, and other vegetables, vegetable fried rice comes as a savior when your taste bud is yearning for sheer pleasure.
Preparation time: 15 minutes; Cook time: 40 minutes; Ready in: 55 minutes; Servings: 4 members
Ingredients Required
- 3 cups of water
- 1 1/2 cups quick-cooking brown rice
- 2 tablespoons peanut oil1 small yellow onion, chopped
- 1 small green bell pepper, chopped
- 1 teaspoon minced garlic
- 1/4 teaspoon red pepper flakes
- 3 green onions, thinly sliced
- 3 tablespoons soy sauce
- 1 cup frozen petite peas
- 2 teaspoons sesame oil
- 1/4 cup roasted peanuts (optional)
Directions
- Boil water in a pan. Stir in rice. Reduce heat, cover and simmer for 20 minutes.
- In the meantime, heat peanut oil in a large skillet or wok over medium heat. Add onions, bell pepper, garlic, and pepper flakes, to taste. Cook 3 minutes, stirring every so often.
- Increase heat to medium-high and stir in cooked rice, soy sauce, and green onions. Stir-fry for 1 minute. Now add peas and cook 1 minute extra. Remove from heat. Add sesame oil and mix well.
- Garnish with peanuts, if wish for.
By Sowmya Sangam