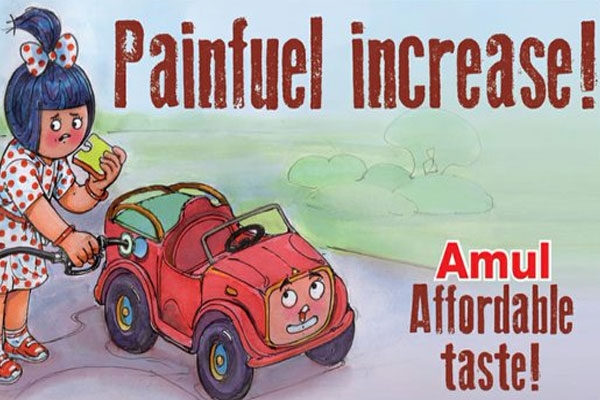 (Image source from: twitter)
Apart from their dairy products, Amul is also known for their creative taglines and advertisements, starring the Amul girl and trending topics. Now that the prices of petrol and diesel in India have increased, Amul has taken the opportunity to make a creative comic out of this issue and Indian citizens are impressed.
The Tagline reads "Painfuel Increase" which is a wordplay on the steep rising of the prices of petrol and diesel in India, along with "Amul affordable taste" on the bottom.
Citizens have not been happy with the increased prices of fuel throughout the country. To put it plainly, it has been fueling anger among the people.
Amul had shared the cartoon on their Twitter account, which shows the Amul girl anxiously filling her car's tank up.
Fans were quite impressed with the cartoon and even sparked some funny responses to the cartoon. Overall, the cartoon spiked all positive reactions and people are thoroughly impressed.
The Union government hiked the excise duty on petrol and diesel 21 times in 2021. Roughly, the fuel prices have increased by 6 rupees for both the fuels.
Although fuel prices have risen, the price of oils, seems to remain the same. Some believe the cause of the spike in the fuel prices is to compensate for the economic loss that took place during the COVID-19 pandemic in 2020.
By Meena Atmakuri