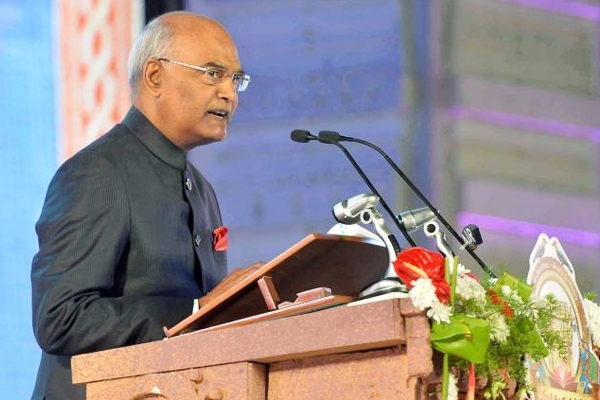 (Image source from: www.indiablooms.com)
The 15th Pravasi Bharatiya Divas or Indian Diaspora Conclave ended on a happy note Wednesday with President of India Ram Nath Kovid giving away the Pravasi Bharatiya Samman to 30 Indians abroad, in recognition to their contributions to various fields like business, medicine, social and community service and academics.
Indian-American International Monetary Fund chief economist Gita Gopinath, Norwegian Member of Parliament Himanshu Gulati and South African diplomat Anil Sooklal are among the awardees.
Reminding the audience that this was the 150th birth anniversary year of Mahatma Gandhi, India's greatest Pravasi, Kovind said that it was imperative to connect with the youth as they are at the forefront of all development. "We must listen to them and their ideas to make our bonds deeper and stronger," said the President.
He added that the Indian diaspora was the face of India and its identity abroad. "We are proud of you and your achievements. What makes your contribution stand out are your values which intrinsically remain Indian," he said.
The President spoke about the progress being made in the country in recent years and the efforts being made to embrace Non-Resident Indians (NRIs) across the world.
"There is a sea change in the way we are interacting with our people abroad. Giving a new meaning to our umbilical ties we have improved the ease of travel and ease of living abroad," he said.
Uttar Pradesh chief minister Yogi Adityanath evoked the memory of Netaji Subhash Chandra, whose birth anniversary it was on Wednesday.
"We know that he has worked for the freedom of India and the highly important role played by NRIs in his work. India is now emerging as an economic superpower and the NRI are integral to this growth," Yogi Adityanath said.
He added that he would personally ensure that there is action taken on the several discussions that took place during the three-day event.
-Sowmya Sangam